Leave Apartment Fire Damage Restoration to Pros in Santa Clarita
8/2/2022 (Permalink)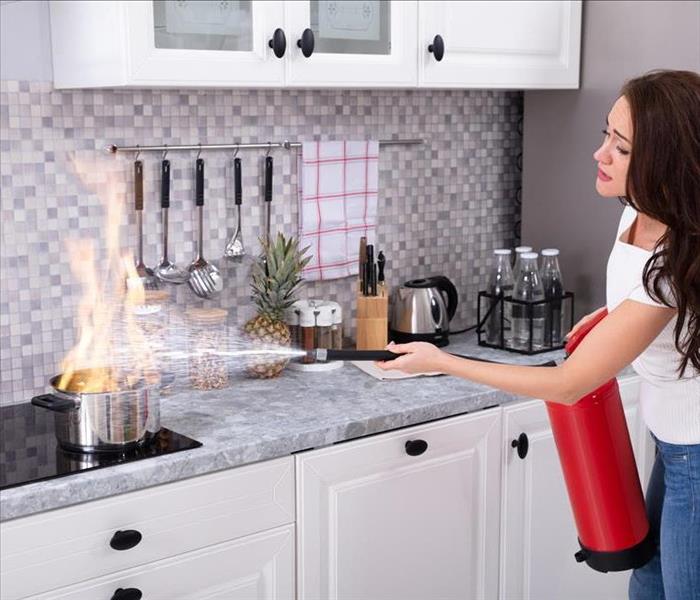 SERVPRO says to keep a type ABC fire extinguisher under the kitchen sink to prevent significant fire damage at your Santa Clarita home.
Reach SERVPRO 24/7 in Santa Clarita to Help with Fire Restoration
Apartment building fires are both dangerous and frightening to encounter. Nobody in your Santa Clarita apartment complex is expecting a fire to break out, so all the actions that come when alerted to the event are crucial. When you own an apartment complex, you need a team that can handle the cleanup efficiently so that your tenants are not displaced for a long time. SERVPRO is there to address apartment and condo fires to make it "Like it never even happened."
Handling apartment fire restoration in Santa Clarita is something best left to professionals. Here at SERVPRO, we are ready and equipped to scale our resources accordingly to get you the best results as quickly as possible.
Visible and invisible damage
Visible fire damage like soot deposits and charring will be apparent after any fire event, but unseen issues are also present after a fire, including:
Extreme temperatures during a fire caused damage to walls and flooring beyond where the flames burned, and soot settled.
Firefighters also use copious amounts of water or chemicals to put out the flames.
The combination of extreme heat and water elements often impacts other building units. With apartment complex fires or any building with multiple units in close proximity, a thorough inspection must get done to assess structural integrity, smoke infiltration, and moisture.
SERVPRO's trusted methods to the rescue
When you want to get your tenants comfortable and back in their homes as fast as possible, SERVPRO's prompt action and proven methods are here for you 24 hours a day. We get started with assessment as soon as first responders give us the green light to enter the building. We begin cleaning and restoration as soon as possible with the help of:
Pumps to pull up standing water
Drying equipment to restore relative humidity
Air scrubbers to address air quality
Controlled demolition to replace all charred and unsalvageable materials
You can count on SERVPRO of Santa Clarita Valley regarding fire restoration at your apartment complex. Reach us anytime by calling (661) 296-4600.