Fast Action by SERVPRO Manages Water Mitigation in Santa Clarita
9/2/2022 (Permalink)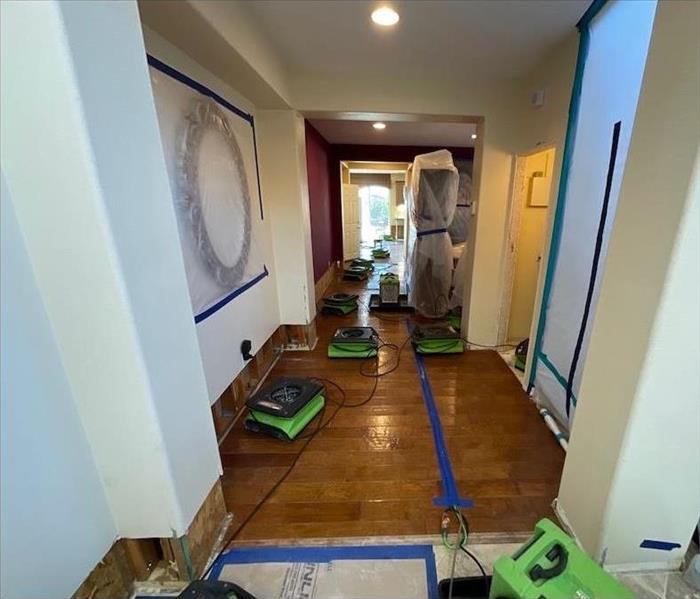 SERVPRO IICRC certified technicians have the training and experience for all phases of water damage restoration. Call now!
Water Mitigation by SERVPRO Reduces Water Damage in Santa Clarita
Water seeping into our homes through the roof or plumbing leaks can cause extensive damage to Santa Clarita homes. Water is absorbed by porous materials and spreads behind walls, under floors, across floors in carpets, and under padding. Leaks under the sink in your bathroom or kitchen can penetrate porous materials such as cupboards made from wood products causing swelling, loss of integrity, and strength.
SERVPRO provides water mitigation services in Santa Clarita. Our experience has shown that rapid response and action can limit the amount of damage and avoid significant secondary damage. We respond in less than four hours from your call and deploy equipment to mitigate the effects of moisture on your home. Avoid delays in calling us for assistance. Reducing the time porous materials are exposed to water reduces the absorption and secondary damage.
Rapid response water mitigation can save your hardwood floors, limit the damage to the porous kitchen and bathroom cupboards and reduce the damage to carpeting, under padding, and subfloors.
Hardwood floors absorb moisture causing buckling and cupping. SERVPRO utilizes vacuum pads to remove water between the hardwood planks' joints. Air movers and dehumidifiers do the rest to mitigate the potential damage to hardwood floor materials.
Weighted water vacuums remove excess moisture from carpets and underpads, protecting the subfloor from permanent damage. Extended exposure to high moisture levels can cause carpets to delaminate, under pads to disintegrate, and subfloors to lose their structural integrity. Early detection and immediate water mitigation efforts can significantly reduce the potential for permanent damage.
SERVPRO offers the following water mitigation services:
Water clean up
Water removal services
Water damage remediation
Call SERVPRO of Santa Clarita Valley for water mitigation services. We provide service to Santa Clarita and nearby areas. We can help 24/7. Call (661) 296-4600.