Fast Santa Clarita Water Damage Mitigation Solutions
4/5/2023 (Permalink)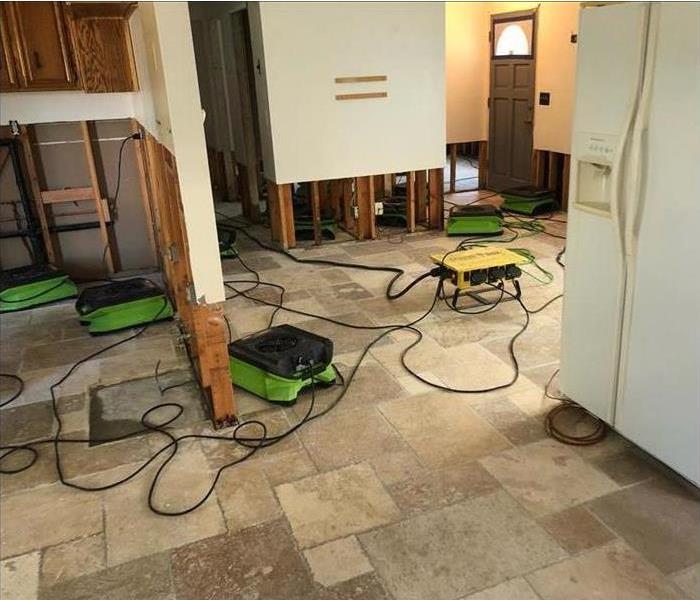 SERVPRO offers full-service water damage restoration through reconstruction for Santa Clarita customers, "Like it never even happened."
SERVPRO Overcomes Water Damage in Stages
Disasters never wait for convenient times to occur, so having a plan to help your home is crucial. Your insurance policy might not always cover the damage that water can do if the incident is not sudden or accidental. There are many ways that moisture or water could impact your property, including:
Leaks
Burst Pipes
Broken Appliances
Dripping Air Conditioners
Loose Fixtures
Spills
With so many causes of Santa Clarita water damage, it is important to have a team of professionals that can act fast to help. Water emergencies encompass the greatest volume of our service calls, so our Green Fleet of service vehicles remains stocked and ready to roll out for help when you call.
What is Water Mitigation?
Mitigation is one of the pivotal elements to successful restoration and recovery after damaging incidents. Regardless of flooding or burst pipes, immediate actions must be taken to limit the movement of water and how destructive it can be for exposed materials and contents. Early efforts can include:
Water Removal
Content Management
Demolition Services
Repairs
Proper Job Scoping for Water Damage
As our production manager, our professionals work with the customer to establish restoration priorities and better understand the scope of the damage, pre-existing conditions, and pressing concerns. The better informed our SERVPRO team is, the more detailed and accurate the estimation and restoration plan can be.
Thorough Drying Options for Residences
Drying is one of the most critical elements of every water restoration process, making it among the more diverse steps that we must take to recover homes after water damage successfully. The methods involve several tools and products from our inventory, but the three most common for widespread evaporation and moisture management include:
Air Movers – High-velocity blowers direct blasts of warm air at moist or wet surfaces. Continued efforts promote steady evaporation of the surface moisture.
Dehumidifiers – With the successful deployment of air movers, the humidity in a room increases as evaporation continues. Desiccant and refrigerant dehumidification units grab moisture grains from the environment and collect them for disposal or exhaust it outside.
Heaters – increasing the temperature in a room helps with faster evaporation. It increases the capacity of an environment to hold moisture, reducing a plateau where the air conditions are fully saturated.
Is The Drying Process Complete?
One of the concerns a homeowner might have during the restoration process is whether the job is getting done as well as they hope. SERVPRO understands these concerns and keeps customers in the know about the progress of drying methods and the data collected from the many moisture sensors and detection equipment in use. We track damp pockets and moist areas to ensure that we appropriately place drying equipment and do not overlook potentially damaging conditions during the restoration phases.
When Are Water Damage Repairs Needed?
Repairs after damage are more common than many homeowners might realize. Because water and moisture can be so destructive to the materials that absorb them, much of these materials will need to be removed and replaced to return the property to its original condition. We limit the amount of controlled demolition necessary but have experienced contractors to help when rebuilding.
The frequency of Santa Clarita water damage events leaves us with a pressing need to keep professionals and experienced technicians ready 24/7 to respond. Water continually spreads in an open area, making it possible for several rooms of your house to be impacted right away.
Our SERVPRO of Santa Clarita Valley team is available now to help when you call (661) 296-4600.